Primary RiskAssess
Free Trial
If you would like a 2-week free trial of Primary RiskAssess, please email your school name to
Primary RiskAssess is a web-based risk assessment tool for Primary school science investigations. It assists teachers to design their investigations and make them safer. By using Primary RiskAssess, teachers can carry out interesting and exciting experiments with greater knowledge and confidence. It is designed to be used by primary teachers without a laboratory technician. More than 200 schools are now using Primary RiskAssess.
Meet Legal Obligations
It is legally required for all Canadian schools to conduct risk assessments prior to experiments. RiskAssess provides a convenient and rapid method to meet these obligations in a manner that closely follows the International Organization for Standardization Standard ISO 31000:2018.
Avoid Accidents
Safety data about chemicals, equipment and living organisms are stored in RiskAssess. When you choose a chemical or other item, RiskAssess automatically incorporates up-to-date safety information into the risk assessment. You assess the inherent risks and enter the appropriate control measures to make the experiment safer. Click the risk assessment on the right to see how this works.
The Australian curriculum for science
The Australian Curriculum has been implemented with some variations in each State and Territory. The curriculum requires that science be taught to students from their earliest years. Students are encouraged to take an increasingly active role in considering safety and assessing risk in investigations as they progress from Year 1 to Year 6. Read more about the requirements of the Australian Curriculum for Science.
Simple to use
Primary RiskAssess has been developed in collaboration with Primary teachers. It provides background information on safety risks posed by chemicals, equipment or living things, so that teachers can be aware of any potential issues. Primary RiskAssess is user-friendly and includes online help screens.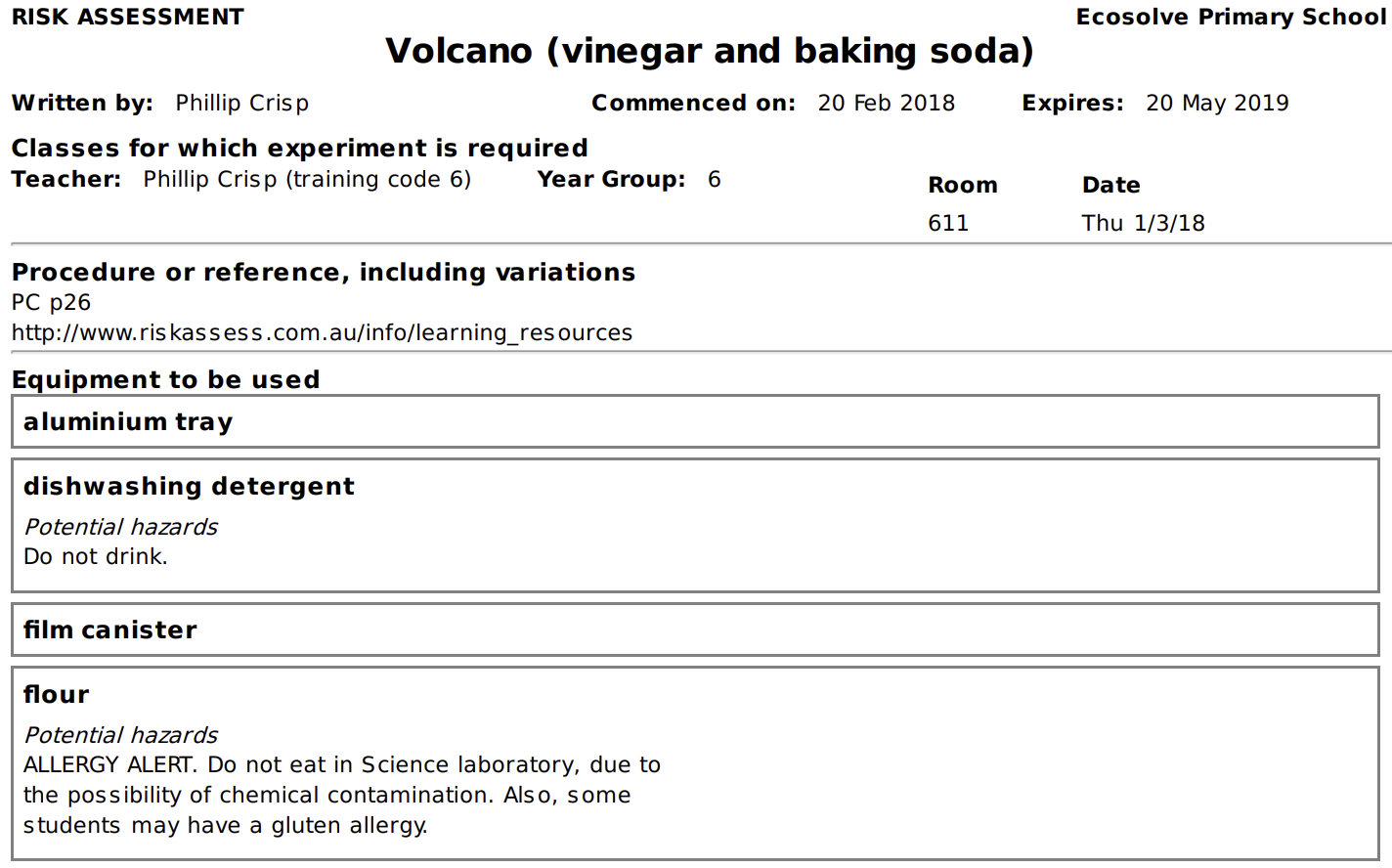 Save Time
RiskAssess provides an electronic template which makes it simple and fast to carry out risk assessments. Risk assessments can be easily shared between staff, copied and customised from year to year, saving time and sharing knowledge.
Special features for Primary school use
safety information on the chemicals, equipment and living things used in Primary science
electronic template to lead teachers through the risk assessment process, allowing "all relevant matters" to be considered and control measures to be introduced and recorded
online help and learning resources
easy sharing of experiment templates for customisation and review
storage of risk assessments for legal purposes
use on computers, iPads, tablets and smart phones
hot-links to Safety Data Sheets, documents, diagrams, websites, etc
Getting Started with Primary RiskAssess (demo video) to help new users get up to speed quickly
Continuing development
We invite primary teachers to send us suggestions for new features, additional chemicals, equipment and biological items. We want to make Primary RiskAssess as useful as possible for primary teachers!
Download the Primary RiskAssess brochure for more details.
Subscribing
The cost of a year's subscription to Primary RiskAssess is $350 (plus sales tax) per school campus. A subscription lasts 365 days from the date that payment is received and includes all upgrades during that period.